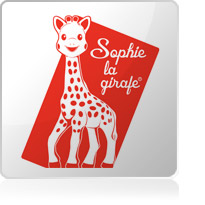 Vulli has been designing products, tailored to different stages of child development, including the famous Sophie the Giraffe®!
Sophie the Giraffe® is a complete collection of products that covers all the needs of your baby at any time of the day and in every stage of his growth.

Vulli company attaches great importance to ecological and sustainable development issues both through its products and its internal policy:
. Sophie the Giraffe® whose composition is rubber based from the sap of 100% natural Hevea.
. The Klorofil range development resolutely turned towards the protection of the environment.
. The plaster used for making Sophie the Giraffe® is sorted separately to be returned to service in its industry and therefore in its primary function.
. An audit has been implemented in the company to effectively reduce waste and raise staff awareness to this cause.
. Plastic bags are also set aside for recycling.

Vulli company is committed to the VML struggling to overcome Association lysosomal diseases.
Produits de la marque Vulli