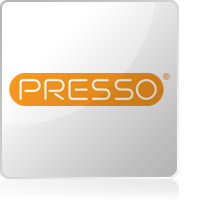 The ultimate machine for every espresso coffee lover!
Presso
, now known under the name
ROK
, makes ecological coffee machine, elegant and practical machines to make delicious hot drinks in a few seconds.
Presso ROK coffee machine
operates without the use of electricity or disposable batteries. The pressure required is not obtained through an electric motor as in a traditional percolator but manually via the
Presso
pressure handle... All you need is ready boiling water and ground coffee.
In addition to their products being made ​​of recyclable materials,
Presso
has also won numerous design awards. Enjoy the pleasures of fresh great tasting coffee fit for the best cafés in Italy from the comfort of your home. Quick and easy to make!
Produits de la marque Presso