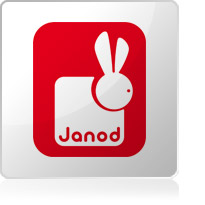 Since 40 years, Janod is the number 1 in France for wooden toys. The manufacturer provides playful and intelligent products made of wood or recycled cardboard with contemporary and colourful design. Janod toys and games benefit children's development and are loved by the whole family!
Janod wooden toys are made with a focus on natural and ecologically kind products. The brand's slogan "Play by Nature" reflects a passion for the materials which are used. With FSC certified wood processing and painting, Janod brings anew into the children's play and fun in an environmentally friendly way.
Moreover, Janod toys meet all current standards and regulations, certified in association with Bureau Véritas.
Discover innovative and creative wooden toys to inspire young minds and keep little hands busy!
Produits de la marque Janod