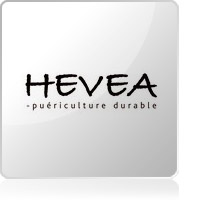 Hevea gives you the opportunity to offer the best to your children while taking care of the environment!
The name "Hevea" comes from the Latin name for the rubber tree, Hevea Brasiliensis.
The Danish brand Hevea produces modern design dummies and teethers made of 100% natural rubber, which is biodegradable and a sustainable source. Natural rubber has the ability to be broken down physically and/or chemically by microorganisms. It usually requires exposure to sunlight, air and moisture.
Hevea products differ from the others because of their sustainable production processes. The rubber used by Hevea is produced in Malaysia, where the company pays a percentage of the raw rubber costs to the Malaysian Rubber board, which in return helps to create a sustainable industry by replanting rubber trees!
Hevea baby's dummies and teethers also meet the safety regulation of EN1400 and EN 71.
Produits de la marque Hevea