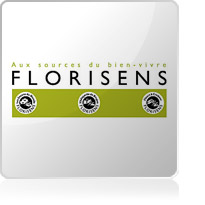 Florisens is a French company based in Montpellier which develops and markets natural incense and essential oils crystals through the brands Les Encens du Monde et Cristaux d'Huiles Essentielles.
Since its creation, Florisens has chosen to work with the best natural ingredients as well as the most efficient environmentally-friendly production techniques, and distribute authentic products with which customers can experience real scents and flavors.
The name of the company is thus an invitation to a journey of discovery through the five senses!
Florisens incense is largely composed of plant and aromatic wood extracts, and manufactured in accordance with the IFRA (International Fragrance Association) standards. All Florisens products do not contain any solvents, preservatives nor synthetic substances. The company also pays particular attention to using recyclable packaging.
Enjoy the many benefits of essential oils thanks to Florisens organic crystals. They are salt-free, sugar-free, fat-free and of course, made in France. All you have to do is directly sprinkle them on your dish or on a glass of fresh water!
Produits de la marque Florisens