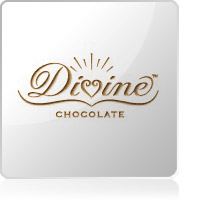 The story of Divine Chocolate, the "divine chocolate that has heart" is unique. On an "impossible idea", Divine Chocolate is today a company that earns 12 million pounds per year in Britain and developed in the United States where it began in 2007.

It is proof that with alternative and more equitable methods of doing business, we can get results and make a profit on a large scale, not only for niche products!

Divine Chocolate products are not certified organic, but it is important to note that pesticides are too expensive for farmers who rely primarily on natural methods of treatment and protection of their cultures.

The Divine Chocolate products remain no less natural products made ​​from cocoa butter and natural vanilla, soy lecithin GMO-free, with no added vegetable fats.


Produits de la marque Divine Chocolate