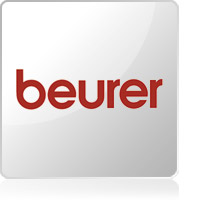 Beurer has made a name in the health and wellbeing market developing a range of innovative and high-quality products to make our day-to-day lives more pleasant: blood sugar measuring units, blood pressure instruments, thermometers, electric blankets, bathroom and kitchen scales, footbaths and nebulizers, pulse watches, etc.

The company's headquarters are located in Ulm, Germany. All Beurer products are manufactured both in Germany and Hungary and comply with quality and safety standards.

Research and development are at the core of Beurer's activities. Since its creation, the company has not stopped innovating in order to better meet customers' expectations and needs.
Produits de la marque Beurer