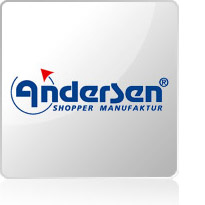 Andersen shopping trolleys are just essential for everyday shopping!
Andersen is a German family run company which has been manufacturing high-quality and innovative shopping trolleys for 50 years. Andersen shopping trolleys have multiple features among them telescopic handles, aluminium frames, cooler pockets and water resistant bags. Moreover, you can easily push or pull Andersen trolleys thanks to their multi-wheel system.
Andersen thus offers you a new experience of shopping!
Trolleys are available in many different colours and shapes: from classic to sporty including trendy and modern style, there is a model for everyone.
Andersen keeps on designing and developing new products in order to better respond to the customers' needs and expectations, providing the best service experience it can.
Finally, Andersen shopping trolleys are 100% eco-friendly and reusable. If you were used to head home laden with plastic bags, that is definitely over!
Produits de la marque Andersen